Roshni Patel, OD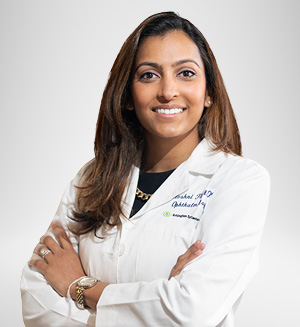 Dr. Roshni Patel is a board certified optometrist who joined Arlington Eye Center in the summer of 2012. She earned her undergraduate degree in Biology and Business Administration from Drexel University and her Doctorate in Optometry from Inter American University.
Dr. Patel has a special interest in ocular diseases including glaucoma and macular degeneration. Her training includes a focus on primary and emergency eye care and surgical co-management. She is experienced in contact lens fittings including soft and rigid gas permeable. At Arlington Eye Center, Dr. Patel sees a variety of patients including but not limited to glaucoma, cataract, macular degeneration and ocular surface disease (dry eye, blepharitis, inflammation).
Dr. Patel was born and raised in New Jersey and now resides in Arlington, VA, with her husband and two daughters. She enjoys cooking and traveling.
Languages
Fluent in English and Gujarati
Ophthalmology Fluent in Spanish