Ghada Orkubi, MD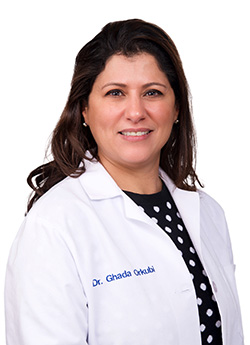 Arlington Eye Center proudly welcomed Dr. Ghada Orkubi to our practice in 2019. Certified by the American Board of Ophthalmology since 1995, Dr. Orkubi brings 25 years of experience in glaucoma, cornea, complex cataract and anterior segment surgeries. She is also at the forefront of the latest surgical techniques, including refractive surgeries, corneal cross-linking for keratoconus cases, cataract with premium intra-ocular lenses and minimally invasive glaucoma procedures.
After a year of pediatric clinical research fellowship at Harvard-affiliated hospitals in 1988, Dr. Orkubi did her residency in ophthalmology at Wake Forest School of Medicine and Bowman Gray Center for Medical Education in Winston-Salem, North Carolina. In 1995, she completed a combined fellowship in anterior segment cornea and glaucoma at Allegheny General Hospital in Pittsburgh.
Dr. Orkubi is a member of the American Society for Cataract and Refractive Surgery and the American Academy of Ophthalmology.
In her spare time she enjoys reading, painting, and playing music.
Languages
Fluent in Arabic and English
Understand/speak broken French